Celebrity Gist
K-Netizens are not impressed by BLACKPINK Jennie's outfits in 'The Idol'
K-netizens had mixed reactions to BLACKPINK Jennie's outfits in the HBO series 'The Idol'.
On July 4 KST, one netizen took to an online community forum and created a post titled, "Jennie's outfits in 'The Idol' are considered clothing…?" Here, the netizen included a photo of Blackpink's Jennie from the set of the HBO series 'The Idol', where she was seen posing with her costar Lily-Rose Depp. Both were seen wearing similar pink stage outfits, with Jennie in light pink and Lily in dark pink. The outfits were very revealing, resembling a one-piece swimsuit with a crocheted looking top.
Some netizens defended Jennie, stating that she was simply wearing what the drama production had prepared for her and that she was also wearing the same outfit as Lily-Rose Depp. Others, however, found the outfits strange. The term "3D pen" was used to describe the clothes, as the author of the post wrote, "It looks like the clothes were made with some 3D pen… I really hope that The Weeknd never holds a camera (produces) again in his life". While some K-netizens felt that Jennie should be able to wear whatever she wants, others argued that there should still be a line that shouldn't be crossed. A select few K-netizens even empathized with Jennie, noting the pressures she faces as a top star trying to fit into the American entertainment standards. 

What are your thoughts on Jennie's outfits in 'The Idol'?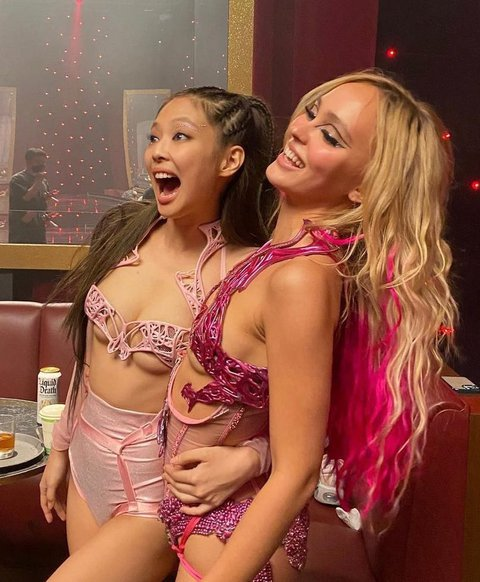 K-netizens commented:
"Jennie did nothing wrong. She's just wearing what the drama production is telling is her to wear, and she's wearing the same outfit as Lily Depp."
"It looks so weird…It looks like an elementary child is wearing that kind of outfit."
"Even if the outfit looks weird, it's Jennie, so that outfit will probably trend soom."
"Jennie comes out as an idol. In America, isn't it pretty normal for idols to wear stuff like that on stage?"
"Lolll 3D pen…It is kind of off-putting."
"Although we should let her wear whatever she wants, shouldn't there still be a line to draw?"
"I just feel bad for her. She's a top star, but she's doing all of this just to fit into the US standards…"